Johnson House
Working as an integrated team, our educators and allied health staff provide the children in Johnson House with a range of diverse learning opportunities. Recently the centre celebrated Speech Pathology Week (23-29 August)—the children and educators are very grateful to have the support of Speech Pathologists in their program. Lately Speech Pathologist Kacey and early childhood educator Madhu have been collaborating to deliver an integrated group based on gardening and mindful eating. Kacey has also been supporting the centre team to teach the children a range of sign language signs which have been incorporated into the daily routine, as well as into some familiar games and songs. The integrated approach not only benefits children's learning and development, it also supports the team to extend and diversify their own professional skills.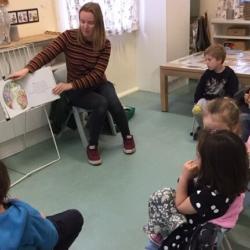 Murray House
In Murray House toddlers' room the children's interest in dinosaurs continues to intensify. This interest is vividly evident as the children proudly show off dinosaur prints on their clothes and regularly make homes for dinosaurs in their play. Educator Jaya is continuing to extend this interest for the children with various natural resources, and they have been exploring dinosaur natural habitats with her.
This week many reading groups were intentionally facilitated for children to extend their current interests and learning. For instance, a book called Why do I wash my hands? by Angela Royston, was read throughout the week to reinforce the importance of hand washing. Many picture books on dinosaurs were also shared with children, and they learned to identify various dinosaurs through their attributes as well as how to pronounce complex dinosaur names.
This week educators also saw the children initiating their own learning by asking the educators, each of whom has equipped themselves with teaching resources and a special book bag, to read their favorite books to them. Educator Denise recently added a few more books to her bag and invited the children to join her to read them; they then repeatedly requested these books throughout the week. Two of the favourite books that they also requested Thi-My to read were Room on The Broom, and The smartest Giant in Town, both by Julia Donaldson.
An integrated group lead by Occupational Therapist Lisa and educator Jaya which focuses on mindful eating has also started in Murray House toddlers, running every Monday during school term. Mindful eating encourages children to use their senses to explore foods and allows them to develop a healthy ability to pay better attention to their hunger and fullness cues, as well as further appreciate foods they already like, and to become more confident in trying new foods.