Family Day Care for children from 6 weeks to 12 years
A licensed and accredited service that operates in a secure and stimulating home environment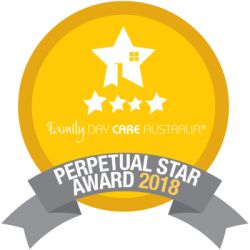 The Infants' Home Family Day Care
Winner of the National Perpetual Star Service Award 2018 (FDCA), for consistent quality service provision for more than 10 years
Find a Family Day Care service near you
Search for a Family Day Care within 10km of a postcode
Become a Family Day Care Educator
Running your own Family Day Care is a rewarding experience
The Infants' Home's Family Day Care Sydney Wide have been providing quality early education services to families across Sydney for over 40 years with the approved provider, The Infants' Home, offering early education services since 1876.
Work from home.
You can choose your income level and have a productive work/life balance.
You will benefit from brand recognition, marketing material, customer service management and professionals experienced in supporting and training you through your local scheme.
You will work within the National Quality Framework, so the families using your service will know their children are receiving quality care.
Access to professional development through training, forums and conferences.
Once registered with our scheme, you will get all the support, advice, training and guidance you need to start your own business.
Please note
We look for residences that meet regulations and have adequate space and facilities for a child care service.
Potential Family Day Care businesses must meet registration requirements of Family Day Care Sydney Wide to be eligible to operate under our licence and the National Quality Framework.
To express interest in starting your own Family Day Care Business, please contact us and one of our co-ordinators will contact you to discuss.
Express your interest in becoming a Family Day Care Educator