Gorton House 
Toddlers
Story by Educator Demi
The kitchen area in home corner has always been a popular in Gorton House toddler room. The children love to do pretend cooking, baking, or make tea and coffee in the area. This week we started doing some real baking with the children.During the preparation, the children were invited to sit around the table, and language like "one cup" and "two spoons" was used, which was a great way of introducing measurements to children.
During the process of mixing the dough, the children were encouraged take turns putting different ingredients into the big bowl, and to use their senses to explore the ingredients throughout the process, including looking and smelling. While adding and mixing the ingredients lots of discussions happened around the change of colour, texture and smell of the dough. The children were also encouraged to guess what the mixture might taste like after it was baked. Most children thought it would be sweet, while some thought it might be salty. At this stage, for hygiene reasons, we did not invite the children to be involved hands-on in the actual mixing process.
While the cookies were being baked, some children commented, "I can smell something yummy". When the children gathered again to taste their cookies, they commented "It's yummy!".
Johnson House
Preschool
Story by Educator Sofia
Over the past couple of weeks in Johnson House preschool we have been learning about the human body.
We have worked together to make a paper model of one of our peers' bodies. We talked about all the things we could see on each other's bodies and on our skeleton model. Everyone helped to draw different features, like eyes, nose, mouth, veins and a heart. After finishing, we added our poster to the hospital area, so that the children could use it in their dramatic play.
Throughout the week we have continued learning about our skeleton. After inspecting our model, we talked about what we could see. We noticed that the heart was hidden behind a 'cage', which we identify as the rib cage. We then spoke about the different roles each part of the body plays, such as the rib cage, which protects our organs.
It's been fun to learn so much about our body so far and we look forward to learning more in the coming weeks.
Toddlers
Story by Educator Shelley
Somewhere over the rainbow
The children at Johnson House toddlers share their love of books and story times by reading together with their friends and Educators. With numerous books throughout the centre, the children enthusiastically choose books that are interesting and meaningful to them.
One book that has particularly captured the children's imagination is 'Over the Rainbow', by E. Y. Harburg. The bright illustrations of rainbows and the moon are just so magical and dreamy. Whilst reading and singing the lyrics to 'Somewhere Over the Rainbow' in the downstairs yard the children pointed out details of interest. "Look there's a little dog," one child said, and "It's raining … they need an umbrella," another observantly pointed out. Whilst listening to their friends' observations, another child surveyed the sky and concluded that "It's not raining now".
The wonderful illustrations in this book created insightful conversations as the children asked many questions to make sense of the book and the world around them. To extend upon their interest in rainbows, a sensory painting experience was set up. During this experience the children used their fingers to manipulate the paint in a zip lock bag to create their own rainbow colours. "It's yellow and blue," one child said excitedly. Exploring the paint, another child used their fingers to make swirly circular patterns. It was fantastic to see the children finding creative ways to explore the paint, such as using small toy cars to spread the paint out. To spread the paint within the zip lock bags the children needed to apply some pressure with their fingers, supporting their fine motor development and pre-writing skills. Moreover, it was a fun activity with lots of discovery along the way!
We will continue to expand on the topics of rainbows and weather patterns through discussions about the weather, using our observation skills and reading many more books of interest.
Murray House
Story by Educator Purti
What Is Group Time?
Group time is when Educators and children spend time connecting with each other doing fun activities. Group time activities help the children to develop their ability to sit in one place for longer periods of time and these activities help them to develop their social, emotional, physical and language skills, as well as their confidence, imaginations and creativity.
What do we do during the Group Time?
Group time is a time that many of our Murray House babies enjoy. During group time we use resources like tapping sticks and sing songs. Normally we start our group times before lunch. We all sit in one large circle, and I give two tapping sticks to each child. As I do this, the children are learning to wait for their turn. They are learning to tap their sticks up and down, side to side, faster and slower as we sing songs.
The children are always enthusiastic about joining group time activities. Those who didn't join before, now always do, and they sit and tap along with the rest of the group. This time is great for Educators to connect with children and support their learning. When we finish group time it is time for the babies to go to lunch.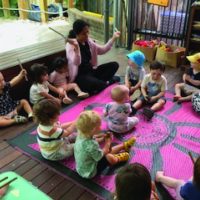 Robinson House
Story by Educator May
Happy Holi! Holi, also known as the Festival of Colours, Festival of Spring, and Festival of Love, celebrates the arrival of Spring in India.To celebrate, in Robinson House we took groups of eight children out to the Goose Paddock and we had a 'colour fight'. Puja and I mixed the colours together with the children looking on. We filled up the spray bottles and tested them before heading out. The children were excited to get ready. "I have a white shirt," said Henrique. "Me too," said Isobel.
To begin, we sat down and discussed the rules. "Only spray colour on the shirts," the children repeated after May.
"3… 2… 1… Go!". We started spraying each other with the colours. Loud laughter could be heard around the grass field as the children sprayed each other. We chased each other around for a long time and when Cathy joined us, the children redirected their spraying to her shirt. Before heading back, we checked which colours we were missing on our shirts and asked our friends to spray these on too. "Who has red for Alek?" I asked. "I'll spray it on," said Riley P.
Soon after we returned, two more groups of eight had their turn at the colour fight. We can't wait for you to see our shirts!
Community Playgroups
Story by Playgroup Coordinator Rebecca
Wow what a week. With the weather being so hot on Monday we moved our Red Bug Playgroup to Rigby House, and it was wonderful to see so many families brave the heat to join us.We set up water play in our undercover area and watched as children and adults alike enjoyed the relief that water brings from the heat.
Being inside also provided different learning opportunities for our children as they did not have the freedom to run around as much due to the more limited indoor space. We saw children who would not usually interact with activities such as craft and playdough when playgroup is at Ashfield Park do so this week. Their imaginations were sparked in different ways.
At the collage table one of our children spent a lot of time glueing their fingers and then wiping them on the collage paper. When they tried to put the collage materials on their paper, they discovered that the feathers and sparkles had stuck to their fingers. Both the child's mum and I could have stepped in here and solved the problem for the child, but instead of doing that we guided their learning by asking them questions. After some time, the child was able to solve the problem of getting the collage items off their fingers by themselves. They pulled some off and then asked to wash their hands. By solving this problem themselves the child was able to express their own way of thinking and to come up with their own solution. These are skills that children develop when they are given the opportunity to work things out for themselves.