Gorton House
Over the past few weeks the children in Gorton House preschool have been exploring the use of tools and learning how to use and manage these safely. The use of real tools was triggered when some children showed interest through play in 'fixing things', as they walked through the environment pretending that furniture or trucks were broken and using loose parts, such as blocks or sticks as improvised tools to fix 'broken' items.
Over a couple of weeks an educator provided the children with some toy tools which fuelled their play ideas. They explored the toy tools, learnt the names and uses of these and continued to fix items. One child remembered that we had real tools in the shed that they had used in the past and they asked us to bring these out. As we explored the hammers and screwdrivers, we discussed their uses and their potential risks. We talked about how to use these tools in ways that prevented injury and for three weeks several children have continued to return to use the tools to hammer nails into wood and to screw screws in and out of wood. Some of the children have shown friends that not only can you hammer a nail into wood, you can also use the claw at the back of the hammer to pull it out again.
Using the tools has challenged the children's drive and persistence. They have learnt that it takes time, focus and commitment to drive a nail all the way into wood, and that the same goes for screws, and they have shown persistence as they work through this. We have loved watching the delighted responses when children finally, after a great deal of hard work, achieve the challenge they have set themselves. The children have had to use very refined fine motor and hand-eye co-ordination skills to align the end of a screwdriver into a screw and to turn it while applying pressure to screw it into wood— seeing the children's delight in finally managing this has been incredibly rewarding.
As the children's confidence and skill has grown we have seen some children further building on their skills by joining pieces of wood together using the one nail, with one child putting pieces of wood together to build an airplane. We look forward to building on our collection and use of tools by slowly adding new tools to our collection and seeing where this play leads.
Johnson House
Preschool
Morning and afternoon tea times in Johnson House preschool offer great opportunities for a range of discussions to take place. The topic of where food comes from is often discussed, and this is a great platform for further learning. With this in mind, the educators have been giving the children the opportunity to translate some of these discussions into hands-on learning experiences. Making our own orange juice has been a definite highlight, and is one of the many experiences the children have enjoyed. The children cut the oranges, used the juicer and then poured the orange juice into their own cups. This led to further discussions about how a range of fruits can be used to make juices, smoothies and all sorts of other food creations. The children have demonstrated curiosity by asking questions, and they have bee hypothesising, researching using books, having conversations with others and using hands-on learning to further their knowledge.
Toddlers
Volcano Exploration
The children in Johnson House toddlers have been engaged in exploring volcanoes, and have had opportunities to choose to participate in play experiences linked to their investigations. This week they joined in experimenting with a 'volcano eruption' using vinegar and bicarbonate soda this week.
First, an educator introduced the vinegar and bicarbonate soda to the children. They each had a turn to smell the vinegar and to look at the bicarbonate soda. The educator also encouraged them to touch the bicarbonate soda with their fingers to see how it feels.
The educator asked the children to look at the pictures of the volcano and she asked them "What colour is the lava?" The children responded "Orange and yellow", so we mixed red and yellow to make orange and poured into our volcano model. When the educator poured the vinegar and it fizzed and over flowed through the entrance of our volcano. Children became excited and screaming. It was a great experiment for the children to develop their curiosity, enthusiasm and exploration.
Murray House
From Baby Shark and The Hokey Pokey to Walking in the Jungle and even the Macarena, the children in Murray House toddlers definitely have a playlist for their afternoon boogies! As the children have shown great interest in music and movement experiences, we hope to now to embed Aboriginal perspectives by story-sharing in non-verbal ways as part of the eight ways of learning.
In the past few weeks the children have been learning and revisiting the moves to an Aboriginal song, the Wombat Wobble, by Johnny Huckle. This song encourages the children to move like Australian animals such as kangaroos, emus, wombats, crocodiles and cockatoos. The children seem to particularly enjoy this song, as it is repeated in different tempos and genres – rock (where we get to play our air guitars) and country (where we pretend to be horseback riding). The children giggles as they tried to keep up as the tempo gradually became faster.
This experience required great focus by the children, as they had to watch the educators model the dance moves, and copy these at the same time. It was great to see them persist, and to respond positively with giggles when keeping up with the tempo got a little tricky. In fact, they asked to do it again and again! With more practice, they became more familiar and confident with the steps, thus promoting their self-esteem. This experience was an opportunity for the children to practice their gross motor skills, and to use the speed and tempo of the music to challenge their agility and regulate their energy levels.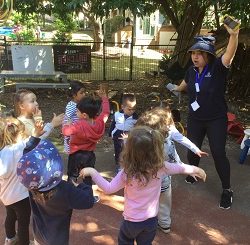 Robinson House
'Art can often be overlooked as having the potential to play a vital role in the development of children. It is often overlooked because it can be seen as pointless 'busy work' if it has no intent or purpose', a quote made by Dr Red Ruby Scarlet, from her latest edition of Becoming with Art in Early Childhood. The children in Robinson House have been engaging in different art experiences, as they ponder images and the spaces we're using, see art closely from different angles and make choices using different mediums.
Educator Karen has been engaging the children in an experience where they paint on stumps using paint and sticks. This week she provided the children with some images—journey, animal waterhole, campfire—to choose to paint, and some red, blue and white paint to further stimulate them to think and create. Providing them with a choice of images to paint supported the children's planning processes, positioning themselves and the development of individual techniques for painting. Using simple questions and reflective practices allowed the children time to calculate ideas, change their choice of images and symbols and to respond to their friends' paintings. Karen drew the children's attention to the different sized sticks they were using and she explained that using thick sticks gave thick blobs or lines, and that thin sticks could be used for finer lines or circles. Although most children enjoyed free play through painting, they were not familiar with using sticks to paint with, and some said, "It's not moving like the brush" or "It's hard to make circle". Karen drew the children's attention to the distinct outline of all of the images and she explained what each one meant. As the children worked, they paid close attention to their designs, the colours they chose and the movements of their hands to make their pictures.
The children shared their narratives through their artwork, and they verbally described these in their conversations. Some of these descriptions included, "Waterhole with turtles in it, looking for fish", "I paint the river, the blue, the green and the red to make the Aboriginal Land", "I did the stars, blue is the sky and white bits are the stars", "I paint smoke", "It black for night time and red and blue for the stars", "It waterhole for frog", "Waterhole for fish and turtle to swim in" and "A waterhole for swim for the people".
It was noticed that a lot of children were drawn towards the waterhole, and when asked why, most replied, because it goes round and round in a circle. Others found the smaller stumps too small and therefore they ran out of space to paint on, but they were also happy to tell their stories the way it was. The experience has been a beautiful learning for the children to be aware, and that not only you can tell stories from painting on paper, but also on natural materials. We will continue our journey of learning about and respecting Aboriginal and Torres Strait Islander culture, and we will continue to embed this into our program to show our ongoing respect and interest in learning.
Family Day Care Sydney Wide
This week the Family Day Care Sydney Wide St George Hub organised for the children at Angie's Family Day care in Engadine to be picked up by the bus and taken on an excursion to the local park. As the bus pulled up to the service you could hear the children squealing with excitement and calling out "the bus is here, the bus is here".
When we arrived at the park the children played on the equipment, collected natural material to take back to Angie's and played soccer. Leo, who is familiar with the park, said he wanted us to take a walk to see a big tree, but we all knew he really wanted to show us the skate park. So we all walked to the skate park and Leo told us all about how he would like ride his bike up and down the hill. We then meet up with Leo's brother Huon, who was not in care that day, but whose Grandmother brought him to the park so that he could play with us. Elise's and Hudson's mothers kindly made us all some delicious banana bread to have after our picnic lunch which was yummy!
On the way back Hudson and Leo collected more natural materials and, as the bag was getting heavy, they worked collaboratively to hold the bag at either end to carry it.
Excursions in children's services form a vital part of the educational program as they are expose children to a range of different experiences which help them to gain a sense of their world. Excursions encourage children to embrace the unfamiliar and to employ all of their senses to help them to observe and understand what they are experiencing.
Community Playgroups
Over the past few weeks the children at playgroups have shown an interest in gardening, and this week they planted Dahlias and Marigolds. We also had creative little fingers at the craft table making flowers, and the children also enjoyed sand play and playdough. The children at Red Bug playgroup at Ashfield Park enthusiastically played musical instruments at group time.