Johnson House 
Toddlers
Story by Educator Asima 
Playdough is always of great interest to the children in Johnson House toddlers' program. Recently we prepared fresh orange playdough and placed it in a bowl on a table with the intention of using it to make birds. We had every child reaching out to touch and feel the texture of the playdough. It was a bit dry, so small portions of dough were offered to all participants to knead them and make them smoother and softer. The task was taken on with great interest and enthusiasm by the children, with the playdough being spread, rolled, flattened and mixed properly, turning it to a soft texture. 
We then looked at the illustrations of the birds in the storybook 'How the Birds Got their Colours', written by Mary Albert and illustrated by Pamela Lofts. There was a small bird shaped cookie cutter in our basket, which some children used to cut out bird shapes from the playdough, while others created their own birds using their imaginations. Whilst rolling, poking and squeezing the playdough, the children were building strength in their fingers and hands. This play activity also promoted children's symbolic thinking, an important aspect of developing cognitive thinking skills and the ability to express ideas creatively.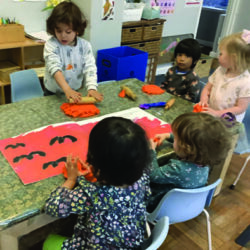 Community Playgroups 
Story by Playgroup Coordinator Rebecca 
With the weather warming up, it has been the perfect opportunity for us to introduce sensory play using water at our Playgroups. We have washed dolls, dinosaurs and trucks. We have also used water in the form of ice to introduce the concepts of 'cold' and 'melting' to the children. The children have often interacted with these sensory experiences in unexpected ways. They have practised their balancing skills by transferring water from the water tub to the kitchen so they could wash the dishes, therefore extending the play between two areas and making connections between new skills and previous knowledge. 
We made ice cubes with dinosaurs inside them and then put these with the sand. Here we began to talk about how the sand sticks to the ice and how we could get the dinosaurs out. The children used the sand to cover the ice and, as it melted, they noted how the sand became wet. 
While sensory play can be messy, it is a fun way for us to support children with their language development, gross and fine motor skills and linking their known skills and knowledge with new skills and knowledge.